Hope everyone had a Merry Christmas. We did. Now my kids are visiting the great-grandparents out of state, so I have a few days to get all of the Christmas decorations put away.
Today's book review is on an entire series, The Inn Boonsboro Trilogy by Nora Roberts. There are 3 books in this series, The Next Always, The Last Boyfriend, and The Perfect Hope. I waited to read these books until the entire series had been released.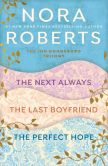 If you are a fan of Nora Roberts then you will really like these books. They are very good. I usually enjoy her books series' and this is no exception. It has Nora's usual romance fluff, fate, destiny, etc. This doesn't bother me because that is why I read these books, for fun and entertainment. I can say of the 3 main male characters, I found Ryder to be the most likable and least annoying. He isn't one for kissing female a** and I like that. I like a man who will love you but then not kiss your booty all the dang time, it can be annoying.
As for the 3 female leads, they are always drop dead beautiful and this is no exception. I do like all of these women, though. Look for a ghost in here, as well.
I highly recommend these books, especially if you are a Nora fan.
I rate these:
They are very entertaining and worth reading!
As a side note, Nora Roberts actually has a bed and breakfast called Inn Boonsboro. These books were modeled after the inn. After reading the books I went on the inn's website and it was cool to see the rooms that had been described throughout the trilogy. The decorating seems to be exactly as described in the books.